South Somerset Partnership School- Coronavirus Response
South Somerset Partnership School has followed all advice issued by both the Government and by Public Health England since the Coronavirus outbreak began earlier this year.
The Government guidance clearly states that the fewer children making the journey to school, and the fewer children in educational settings, the lower the risk that the virus can spread and infect vulnerable individuals across our wider society.
Schools are, therefore, being asked to continue to provide care for a limited number of children and we are paying particular attention to the guidance that states provision should be available for those who cannot be safely cared for at home. This is a childcare and respite service, it is not school.
SSPS is partially closed. The only building that is operational is WYNDHAM VIEW. This is because it has a number of rooms and allows for good quality social distancing. It is deep cleaned every evening.
South Somerset Partnership School remains open for the following children:
1. Those with EHCP's, where a Risk Assessment has shown they may need to attend a setting for part of the day.
2. Those deemed vulnerable by the Local Authority will have an offer to attend a Centre for part or whole of the day, to provide childcare and safeguarding support, where they cannot be safely cared for at home.
3. Those with two parents who are keyworkers.
All pupils at SSPS have been moved onto a Remote Learning Package. Each pupil has a teacher to make contact and set work and a TA to help with any questions and provide some mentoring. We take our pupils mental health and well-being very seriously and want to ensure this is supported as well as their school work.
Please talk directly to the teacher or TA who has contacted you to agree the best times for phone calls etc, and please bear with them if they don't get it quite right first time- we are all learning a new way of working.
Work for pupils is uploaded under the Parent tab under the heading Remote Learning Resources
I would suggest that you try to:
• Do a bit of reading every day (this can be an audiobook)
• Do some free writing now and then. Our older pupils might benefit from keeping a journal in which to record their thoughts, worries and celebrations during this time.
• Do some practical hands on maths: cooking, cleaning, outside maths games, digital maths games.
• Younger pupils would benefit from some fine motor work. Lego, cutting, playdough, tidying up small toys.
• Include some kind of physical exercise everyday
• Do some art or music where possible.
• Complete some of the school work provided by teachers on our website
You are loving your child and supporting them through a difficult time, so please also look after yourself. The member of staff who is contacting you regularly is also available for a chat, advice and- if needed- can pass on your questions to the Pastoral Lead, who will help you access additional help.
I hope to have provision ready for our vulnerable pupils up and running in the next week or so. A lot is dependent on staff absence and we will never open if we can't ensure your child is safe.
I have also included a list of our staff email addresses on the Remote Learning Resources page for pupils to send work to or ask questions if needed.
We are aware of the decision to cancel all examinations for Year 11 in the Summer. Once we have a clear idea of how GCSE grades will be awarded we will write to you and let you know. As this is still unclear, can I ask that Year 11 pupils continue to complete school work so that we have a reasonable body of evidence if we need to show the most recent pieces of schoolwork to an exam board.
Please stay in touch with us. We may not be physically present, but we are thinking of you all and looking forward to a safe return in the future.
All the best
Read more +
Our most recent Ofsted was in May 2018, and we were pleased with the result of this visit. Highlights for me include:
"You make sure that expectations are high. Lessons are about learning and trying your best. The learning environment is filled with positive prompts and messages to pupils."
"You expect learning to be interesting, relevant and fun. As a result, pupils learn to apply their skills while doing practical activities that they enjoy."
I believe, these quotes demonstrate our absolute commitment to ensuring all our pupils are able to access a high quality education, regardless of what has gone before.
Our vision remains strong; in the words of the poet Maya Angelou:  'My vision is not that you survive, but that you thrive with passion, compassion, humour and style'.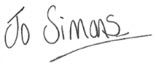 Jo Simons | Area Headteacher
Mobile: 07880 042853