It is my pleasure to welcome you to South Somerset Partnership School (SSPS) website and to invite you to find out about our school.
SSPS is a Complex Pupil Referral unit that was formed in 2013. We work hard to provide education for any child or young person who is unable to attend their mainstream school in South Somerset. All our pupils are at risk of exclusion, permanently excluded or suffering with medical or mental health needs that require a period of time out of school.
Our Year 11 pupils are expected to work hard to achieve the very best that they can and we are proud of their results.
17-18 SSPS Outcomes   16-17 SSPS Outcomes
We know that a number of our pupils have had some difficulty whilst they were at school, and not all will achieve examination results, however we take our responsibility to ensure they are well prepared for the next stage of their education very seriously. We use the Thrive assessment tool to identify and fill any developmental gaps in our pupils, and we hope this will give them the resilience to continue learning after they have left school. We also work hard to ensure all our pupils have a destination at the end of Year 11. Only 2 out of 29 pupils are not in employment, education or training once leaving school- this is a testament to the hard work and care taken whilst pupils are on our roll.
Read more +
Our most recent Ofsted was in May 2018, and we were pleased with the result of this visit. Highlights for me include:
"You make sure that expectations are high. Lessons are about learning and trying your best. The learning environment is filled with positive prompts and messages to pupils."
"You expect learning to be interesting, relevant and fun. As a result, pupils learn to apply their skills while doing practical activities that they enjoy."
I believe, these quotes demonstrate our absolute commitment to ensuring all our pupils are able to access a high quality education, regardless of what has gone before.
Our vision remains strong; in the words of the poet Maya Angelou:  'My vision is not that you survive, but that you thrive with passion, compassion, humour and style'.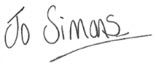 Jo Simons | Area Headteacher
Mobile: 07880 042853