Dear Parents,
HALF TERM WEEK is 26Tth – 30th OCTOBER 2020
Please also note that Monday 2nd November is an INSET day so we look forward to seeing children back at school on Tuesday 3rd November.
If your child or a family member in the same household tests positive for Coronavirus during the half term period, please advise us by leaving a message on the school answerphone, 01935 410793. These will be picked up daily and a member of staff will return your call, thank you.
We would like to wish all our students and their families a safe and happy half term break.
Read more +
Our most recent Ofsted was in May 2018, and we were pleased with the result of this visit. Highlights for me include:
"You make sure that expectations are high. Lessons are about learning and trying your best. The learning environment is filled with positive prompts and messages to pupils."
"You expect learning to be interesting, relevant and fun. As a result, pupils learn to apply their skills while doing practical activities that they enjoy."
I believe, these quotes demonstrate our absolute commitment to ensuring all our pupils are able to access a high quality education, regardless of what has gone before.
Our vision remains strong; in the words of the poet Maya Angelou:  'My vision is not that you survive, but that you thrive with passion, compassion, humour and style'.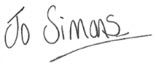 Jo Simons | Area Headteacher
Mobile: 07880 042853