Dear All,
It has been a troubled and turbulent time as we have all faced the coronavirus lock down.
I would like to thank all parents and carers for working alongside us as we have attempted to ensure your children are safeguarded and still receiving meaningful learning tasks.  I am sure we have not got it right all of the time and your partnership and input has been instrumental in supporting this process.
Our Year 11 pupils have now finished school.  There is ongoing work now taking place which will last into September, to support transition to post 16 placements.  Some pupils will receive additional support over the summer from either their post 16 placement or from us.
To any pupils returning in the new school year- we will be in touch on 3rd September.  Planning is now in earnest to ensure we are 'Covid Secure' so that we are able to work to full capacity as soon as we can.
Please note that 3rd and 4th September are Inset days and the first day of school for all students will be Monday 7th September.
To the vast majority of pupils who are leaving us, we wish you the very best in your new school or post 16 placement, we will remember you fondly and hope that your experience at SSPS will have supported your next steps.
I hope that you enjoy the summer break and send warmest wishes to you all.
Read more +
Our most recent Ofsted was in May 2018, and we were pleased with the result of this visit. Highlights for me include:
"You make sure that expectations are high. Lessons are about learning and trying your best. The learning environment is filled with positive prompts and messages to pupils."
"You expect learning to be interesting, relevant and fun. As a result, pupils learn to apply their skills while doing practical activities that they enjoy."
I believe, these quotes demonstrate our absolute commitment to ensuring all our pupils are able to access a high quality education, regardless of what has gone before.
Our vision remains strong; in the words of the poet Maya Angelou:  'My vision is not that you survive, but that you thrive with passion, compassion, humour and style'.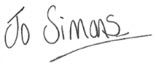 Jo Simons | Area Headteacher
Mobile: 07880 042853