Welcome to South Somerset Partnership School
South Somerset Partnership School (SSPS) provides education for young people across South Somerset who are unable to access their mainstream school. This may be for social and emotional reasons, for medical or mental health reasons, or because they have been Permanently Excluded. We strive to ensure our students are not disadvantaged, and work tirelessly to ensure that their academic outcomes and long-term life chances are not unduly affected by attending a PRU for part of their education.
Our vision remains strong; in the words of the poet Maya Angelou:
'My mission is not that you survive, but that you thrive with passion, compassion, humour and style'
Our most recent Ofsted was in May 2018, the report states:
"You make sure that expectations are high. Lessons are about learning and trying your best. The learning environment is filled with positive prompts and messages to pupils."
"You expect learning to be interesting, relevant and fun. As a result, pupils learn to apply their skills while doing practical activities that they enjoy."
This demonstrates our absolute commitment to ensuring all our pupils are able to access a high-quality education, regardless of what has gone before.
Year 11 Teacher Assessed Grades:
I am immensely proud of the commitment shown by staff and pupils to the current Teacher Assessed Grades process and we are confident that all pupils will receive accurate GCSE grades as a result of their work over the last 9 weeks.
Results will be available on: Thursday 12th August
You have been contacted directly to arrange an email address for your results to be sent to – please note that you will not be able to come to school and collect these.
Further guidance on the process can be found here:
JCQ Guidance for Parent's & Students Summer 2021
Student Guide to Awarding Summer 2021
Covid-19 Information
If your child or a family member in the same household tests positive for Coronavirus, please advise us by calling the the school on 01935 410793 or if it is out of school hours, call the Head Teacher on 07880 042853.
For the most up to date government advice for schools please click here: Covid 19 Guidance for Schools – Autumn Term 2021
For up to date information on Covid symptoms generally and to check current government guidelines please go to www.gov.uk/coronavirus or
https://www.nhs.uk/conditions/coronavirus-covid-19/
With very best wishes
Jo Simons
Headteacher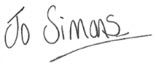 Jo Simons | Area Headteacher
Mobile: 07880 042853